Margaret Mateos is the first woman elder to become Moderator of Dunfermline Presbytery. This role usually falls to a minister and occasionally in the past male elders.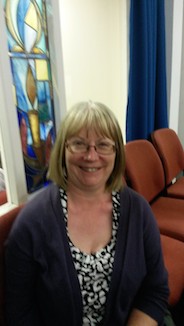 Born and brought up in Cowdenbeath Margaret attended the local church as a youngster and joined the Church of Scotland, Cairns Parish Church, Cowdenbeath at 18, just before commencing her nursing training in West Lothian. After this Margaret went to India for a year as a nurse as part pf the Church's Youth Share programme. She returned for a short while before deciding to train as a missionary partner for the Church of Scotland and from 1984 – 1987 served in Malawi. It was during this period that Margaret met her future husband Javin, a Mexican doctor working for the American Presbyterian Church.
On her return to Scotland Margaret trained as a Health Visitor and secured a position as a Health Visitor in Thurso before returning to Fife in 1998. Margaret is currently Team Manager based in the Rosewell Clinic, Lochore.
Margaret is an elder at Lochgelly and Benarty St Serfs Church in Lochgelly and is currently undertaking a three year period of training and distance learning study to become an Ordained Local Minister within the Church of Scotland. Her Christian faith centres round serving the community and caring for others.
Margaret is looking forward, with a mixture of excitement and anxiety in her role as Moderator. One of the highlights of the year will be welcoming the Moderator of the Church of Scotland the Right Rev Dr Angus Morrison during his week-long visit to Dunfermline Presbytery in late October.
Well respected in the community Margaret exudes a calm, caring nature as well as good negotiating and facilitation skills. She is one very busy lady!