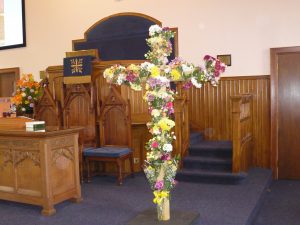 Easter is the high point of the Christian year. Christians would normally be in their churches or even out on hilltops or in open spaces celebrating the resurrection of Jesus. For this is the good news of Easter: Jesus has defeated the power of death and opened the way to eternal life!
But instead our churches are closed, an invisible but potentially lethal virus haunts our streets and people are fearful of what the future might bring. Nevertheless, churches are finding new ways to meet or share their message this Easter and every Sunday. Many are going online and streaming services in the various ways of internet: Web pages, Facebook, Skype, WhatsApp, Zoom and many more.  Fellowship groups can meet by video conferencing – and web pages are set up for children to share in the exploration of faith!
It is great that we have the internet but is there anything we can do in the "real world" to express our faith?  I hope that families will find time to share together in their homes an exploration and expression of faith through the days of Holy Week and then celebrate together on Easter Sunday. Perhaps they could brightly decorate their windows with an Easter theme as they have with the rainbows of hope we have seen recently.
The Easter message is summed up in words often spoken at the start of Easter Sunday services: Christ is risen!  He is risen indeed!
Even though our churches are closed we will still celebrate Easter. And the good news of Easter is even more relevant in our broken world today. The message is that ultimately, by the grace of God, life always wins. As we look to the future and as many feel anxious about the risk of illness or about financial challenges they face, it is good to know that there is hope – that life in God's hands is more powerful than death – and that there is help and encouragement through our faith in Christ even in the darkest times.
A Prayer
Heavenly Father help us, our land and this world through this strange and dangerous time. Be with all the medical and care workers as they work with the sick and the vulnerable as they treat them and care for them. Be with those who are fearful and those at greatest risk and give them your peace and protection, Lord. Be with those who are ill and bring healing to them. Guide all those who are making crucial decisions as they seek to guide our country through this difficult time. Protect those in government as they work hard to give leadership to us all in overcoming the threat of this new coronavirus. Help us all to play our part and guide the scientists to find cures and vaccines to protect us all. You are our God and we put our trust in you!
In Jesus' name.
AMEN
May God bless you this Easter
Stay safe and keep well!
Rev David Redmayne
Moderator
Presbytery of Dunfermline, Church of Scotland