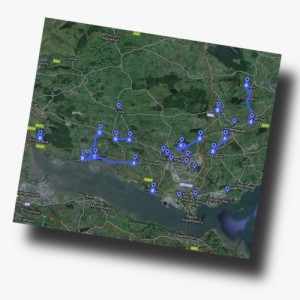 During the current period when access to churches is not permitted a number of congregations in Presbytery are making Sunday services and ongoing devotions available electronically and listed below are the congregations who offer a variety of ways of accessing services. In addition to the information below, please check the individual congregation's webpage and or Facebook page for further details
Aberdour St Fillan's
Weekly Sunday Service – information in News Section on the Church Website
Beath and Cowdenbeath North
Information on recent and forthcoming service on the Latest News Section of the Church Website
Cairneyhill
To watch the weekly Sunday Service at 11.30am via Zoom online, please download and install Zoom on your chosen device; to join a scheduled meeting open Zoom, "Join" and enter the code 707 739 110. To obtain the password please contact the church directly.
Carnock and Oakley
Service 10am on a Sunday morning via Whatsapp
Cowdenbeath Trinity
Meets weekly via Zoom. Service material is also posted on the webpage weekly for use at home
Dalgety
Sunday morning worship – usually found on YouTube Dalgety Parish Church
Dunfermline Abbey
Live Stream on Sunday mornings at 10.30am – www.youtube.com/c/DunfermlineAbbey
Dunfermline Gillespie Memorial
The link from which service streaming can be launched is https://gillespiechurch.org/sermons/   or go straight to the YouTube channel – https://www.youtube.com/channel/UCdVxrWpmmathmsvGdXGJSHA
Dunfermline St Andrew's Erskine
Information posted to the Website and the Facebook page on Thursdays and Sundays
Dunfermline St Leonard's
Dunfermline St Leonarďs posts services each Sunday on Facebook and via the congregation's website
Dunfermline St Margaret's
Service live streamed at 10.30am each Sunday morning. Click on the Services Live Stream tab on the congregation's website.
Dunfermline St Ninian's
There is an all age Sunday morning service at 10.30am streamed live each week and a midweek pause of thought posted on the website for Wednesdays at 7pm.
Dunfermline: Townhill and Kingseat
A service can be read on the congregation's webpage each week.
Dunfermline East
Worship on line at 10am each Sunday
Inverkeithing and North Queensferry Churches
Daily devotions and weekly services – click on the services tab of the Inverkeithing Church webpage
Limekilns
Service recorded and put on the website every week. Occasional live stream on GoToMeeting
Rosyth Parish
Sunday Service Podcasts available at https://anchor.fm/brian-dobby
Saline and Blairingone
Services are available via the congregations Facebook page or the West Fife Churches YouTube channel – link on the congregation's webpage.
Tulliallan & Kincardine
There is a short service at10.30am each Sunday on-line on the church Facebook page or there is link on the congregation's website to the YouTube Channel